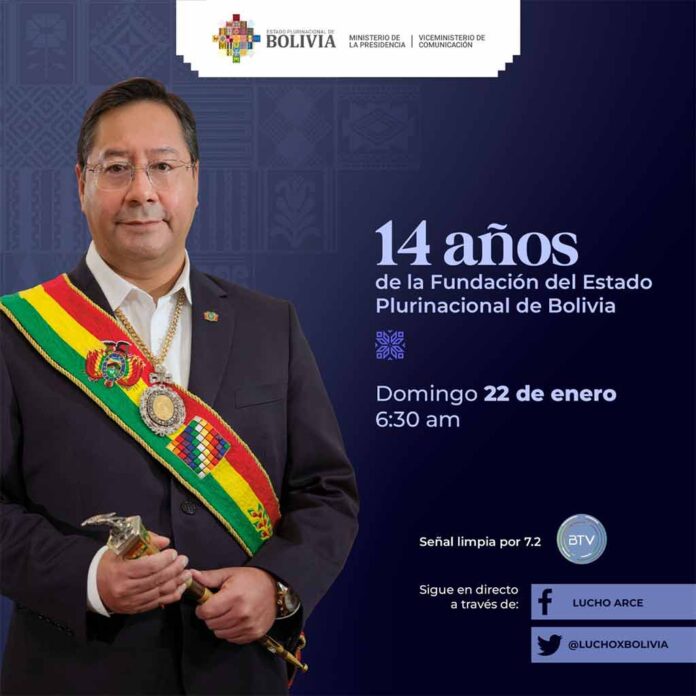 PL photo
President Luis Arce will today deliver a message from the Casa Grande del Pueblo (seat of government) reaffirming the plurinational character of Bolivia on the 14th anniversary of that form of government.
"It will send a message about the recognition of the Plurinational State in this totality of Bolivians, the native indigenous peasant nations and peoples, the intercultural and Afro-Bolivian communities, all of us who are part of the diversity that we have in our Constitution says," assured the Deputy Minister for Communications, Gabriela Alcón.
The deputy director described that the program will begin at 07:00 local time with the ancestral ceremony of thanksgiving to the Pachamama and an hour later the President will deliver his message to the Bolivians.
A huge parade begins immediately thereafter, descending through Montes Avenue, the official box at kilometer zero of the government city, Plaza Murillo, and Mariscal Santa Cruz Avenue, finally going up and concentrating on San Francisco Square. . .
This space hosts the Plurinational Cultural Festival with the participation of national artists and the Chilean ensemble Inti Illimani.
Referring to the peculiarities of this celebration, with the presence of representatives from the nine departments, Alcón recalled that not all Bolivians enjoyed the same recognition or had the same opportunities during the Republic.
"Today we are talking about a political constitution of the state, subject to consideration by the Bolivian people, and that we have worked on it in a Constituent Assembly," he stressed.
Regarding the President's message, the Deputy Minister predicted that it will have as a pillar a balance of the economic and social situation, as well as the challenge of working towards the Bicentennial (2025) in unity.
As an ideologue of the productive collaborative social economy model that Bolivia has successfully applied since 2006, Arce will review these indicators before announcing the "forecast for this year 2023," it said.
Referring to this area, Alcón recalled that the Bolivian consumer price index closed 2022 at 3.12 percent, "the lowest inflation in the region".
On the other hand, exports between January and November last year marked a record $12,617 million, leaving a trade surplus of $761 million for that currency.
At the same time, tax revenue in the domestic market increased by 17 percentage points compared to 2021.
At the same time, thanks to measures taken to combat the Covid-19 pandemic, the country returned to normal – with biosecurity measures in place – and has maintained a mortality rate of 0.1 percent since the end of 2022.